BRAND NEW RESOURCE
WILD LIFE Sydney Zoo are thrilled to announce the release of our Indigenous Booklets, which are packed with fascinating information about Aboriginal culture. To make this possible, we teamed up with Wingura, a company based in Sydney that specializes in creating educational content about Aboriginal culture. The team at Wingaru went above and beyond to ensure that the communities whose land the attractions are located on were involved in the creation process. This way, the local communities have control over how their culture is shared, and they can continue to work in a way that is respectful and culturally safe. We're incredibly proud to be part of this initiative and we can't wait for you to get your hands on these amazing booklets!
Be one of the FIRST to see the booklets!
During Reconciliation Week, Saturday the 27th of May to Saturday the 3rd of June, we will be launching this amazing resource in our attraction. If you visit on Wednesday the 31th of May, we have 300 booklets to give away! Make sure to book now to be one of the FIRST people to see the booklet!
BOOK NOW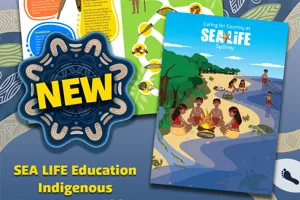 SEA LIFE Sydney Aquarium Resource
SEA LIFE Sydney Aquarium is also announcing the release of their Indigenous resource. To celebrate Reconciliation Week, SEA LIFE Sydney Aquarium Indigenous Resource will have 300 booklets to giveaway on Wednesday, May 31st.
FIND OUT MORE
WIN our new resource for you classroom!
Teachers who book an excursion during Reconciliation Week will go in the draw to win 30 booklets of each Indigenous Resource for their classroom!
This competition will run from 9am 27th of May to 5pm 3rd of June 2023. Book within that time frame to be entered into the competition! 
Reach out to our bookings team if you have any enquiries.