We've developed a library of free resources for use in the classroom, and on your excursion, suitable for different school stages throughout the curriculum.
Use the tabs below to explore what's on offer, and remember to join our Merlin Teachers Club for the latest news and content.
Resources
Indigenous Resources
WILD LIFE Sydney Zoo provides teachers with complimentary indigenous resources that can be easily printed for their visit or utilized in the classroom. These educational materials offer a meaningful way to incorporate indigenous perspectives and knowledge into the curriculum, fostering a deeper understanding of Australia's rich cultural heritage and its connection to marine ecosystems.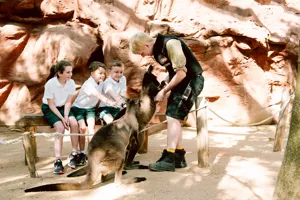 National Science Week
We are celebrating National Science Week and this year's theme is Glass: More than meets the eye. According to the UN glass is one of the most transformational, important and versatile materials in history. With an abundance of applications including the ways glass can be used for sustainability, we have put together some fun activities you can do using glass. Click the link below to download some at-home activities which include building your own glass terrarium and creating a shark sensory bottle. So what are you waiting for... get cracking. 
Download Here