Note to guests
Product Update
The health and safety of our guests is top priority here at WILD LIFE Sydney Zoo. Due to social distancing and capacity requirements our experience of Breakfast with the Koalas is temporarily unavailable, however, gift vouchers are available for purchase. We apologise for any inconvenience caused and please contact DH.POS@merlinentertainments.com.au for further questions surrounding your booking. 
Enjoy Breakfast with the Koalas
This experience is currently unavailable
Running from 7.15 am*, you will have the chance to escape the crowds for a unique opportunity to meet our iconic Australian Koalas!
Start off your day with a one hour guided highlights tour of WILD LIFE Sydney Zoo where you can see the animals at their most active time.
Then, you will be taken up to Koala Rooftop for your delicious hot buffet breakfast surrounded by Koalas. This experience also includes an informative Keeper talk and the opportunity for you to take a Koala photo to take home and show off to your friends and family.
This experience is currently unavailable.
* Times subject to change
See other tickets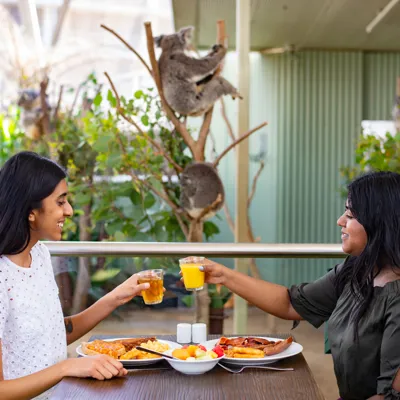 What's Included
Breakfast with the Koalas runs from 7.15am-9am, with a maximum of 35 people. 
Entry to WILD LIFE Sydney Zoo
A guided highlights tour of the zoo
A hot buffet breakfast on Koala Rooftop, amongst the company of our koalas
An informative koala keeper talk 
Koala Photo - The chance to get up close to our iconic Australian koalas for a magic photographic moment 
A photo to take home as a memento of your koala experience 
This was a wonderful experience. We had a delicious breakfast where we could watch the koalas and have our photos taken with them. I would recommend this to anyone and they would be lucky to have Justine as their tour guide.
The ticket price is totally worth the experience. You get to visit the zoo before opening time even after the guided tour. Our guide was excellent and you could see the passion for his work. The animals seem well treated. A little artificial location but the animal's habitat looks well cured. Good breakfast also!
My husband and I had breakfast with koalas and it was a truly unique experience. The breakfast is a buffet style but I was very impressed with how good the food was. Then you get to have your picture taken with the koalas. I would say this is a must do!