Combo Tickets
Save over 50% when combining attractions
Sydney's Best Attraction Pass
SAVE OVER 50% WHEN COMBINING ATTRACTIONS
Go BIG and save money by combining your SEA LIFE Sydney Aquarium ticket with more top attractions including Madame Tussauds Sydney, WILD LIFE Sydney Zoo and Sydney Tower Eye.
All located close to each other in Sydney's Darling Harbour and the city, Combo Tickets are valid for 30 days from your first visit. See it all in one day or prolong the fun over the full 30 days. Unlock savings with a Combo Ticket! Children under 3 go free.
You will need to book your time slot at each attraction to guarantee your entry, scroll down to the page for these tickets.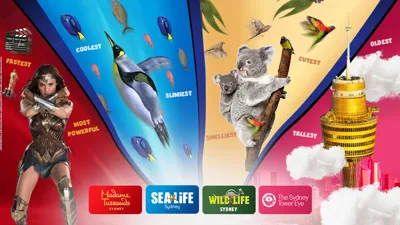 4 attraction pass
Book Your 4 Attraction Pass and Save Over 50%
Take on Sydney's BIGGEST quest!
Visit all 4 attractions and SAVE!
Visit your other attractions within 60 days
Price includes Digi Photo Pass with 8 digital photos included!
Included in your ticket...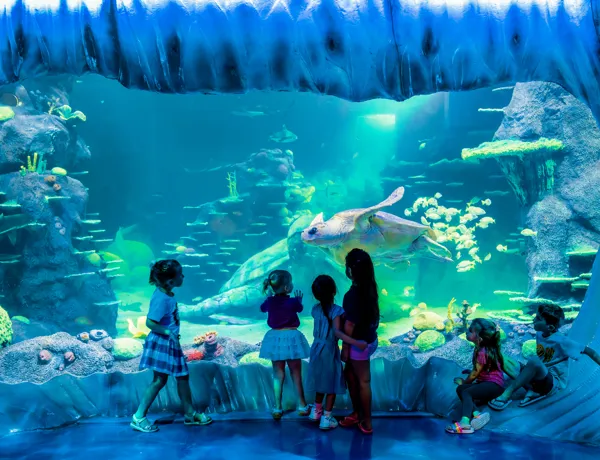 SEA LIFE Sydney Aquarium
At SEA LIFE Sydney Aquarium you'll find over 12,000 animals from 650 species, including sharks, dugongs, turtles, stingrays, penguins, tropical fish and much, much more.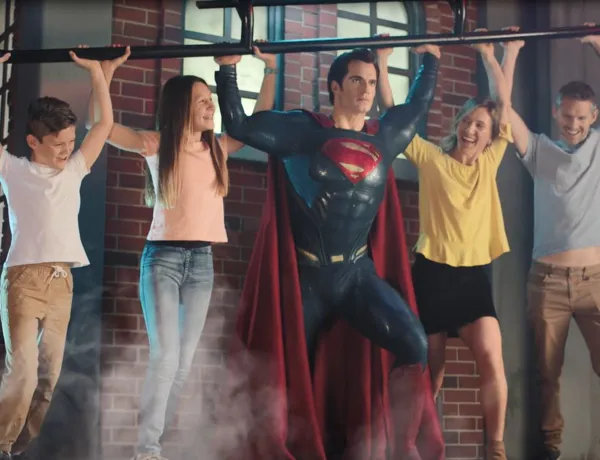 Madame Tussauds Sydney
Get up-close and personal with your favourite celebrities! Get your selfie with Chris and Liam Hemsworth or join our A-listers on the red carpet!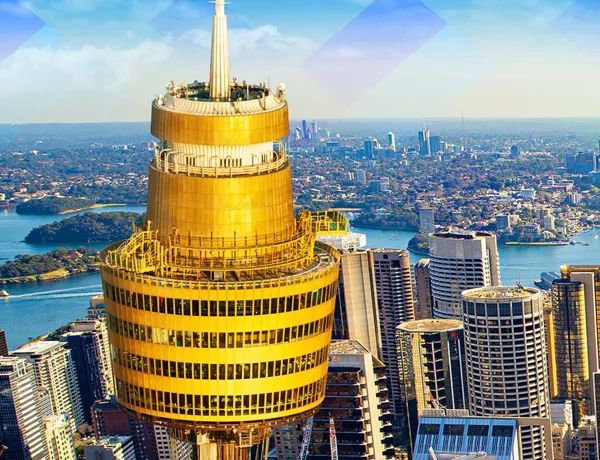 The Sydney Tower Eye
Discover Sydney from above with your family at Sydney Tower Eye. Enjoy breathtaking views and iconic landmarks such as Luna Park, Sydney Opera House, Sydney Harbour Bridge and The Rocks.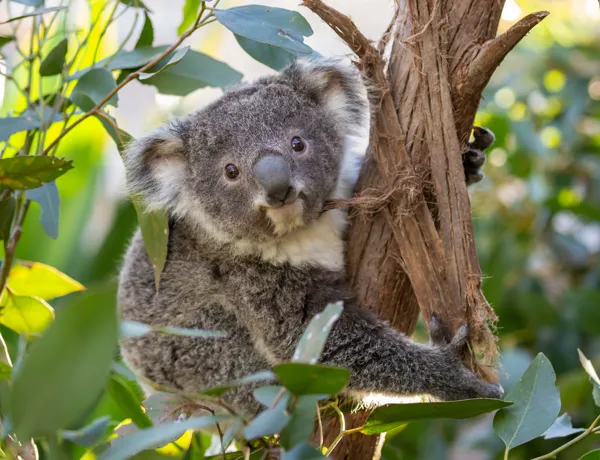 WILD LIFE Sydney Zoo
Come eye to eye with a massive saltwater crocodile, have your photo taken with our friendly koalas at Koala Photos and much, much more - there's so much to see and do!
Attraction Time-Slot Booking
If you have bought a multiple attraction ticket, to guarantee your entry, you will need to book a time slot for each attraction below.
Make sure you book a time slot when buying a Sydney Big Ticket
Book a date and time to guarantee entry
Sydney Tower Eye Pre-Book
Make sure you book a time slot when buying a Sydney Big Ticket
Book a date and time to guarantee entry
What's On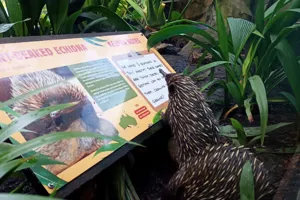 Take on the challenge with Sydney's Biggest Quest
This August journey your way through our top 4 attractions. Follow the FREE map and see if you can sort out the questions. With clues along the way are you ready to sort it out and complete the quest? 
Find out more
The quest continues under the sea!
Can you sort these sea creatures from lighest to heaviest? 
1.Gentoo Penguin
2. Dugong
3. Grey Nurse Shark
4. Clownfish 
Think you know the answer? 
Dive in Here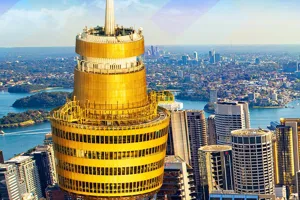 Take the quest to new heights!
Sort out these towers from tallest to shortest: 
1. Sydney Tower Eye
2. Empire State Building 
3. Burj Khalifa
4. The Eiffel Tower

Did you sort it out? 
Discover More
Continue the quest with the stars!
Sort the following figures from youngest to oldest: 
1. The Queen
2. Brad Pitt
3. Miranda Kerr
4. Taylor Swift
Have you figured it out? 
Find Out More!
How to find our attractions
Our 4 Sydney attractions are all conveniently located within walking distance of each other in beautiful Darling Harbour and the nearby city.
DARLING HARBOUR ATTRACTIONS
Train: A short walk from Town Hall or Wynyard stations.
Walk: 5-10 minute walk from CBD down Market Street or King Street.
SYDNEY TOWER EYE
Train: 5 minute walk from Town Hall or St James station.
Walk: Head for centre of CBD located on Market Street.
FAQs
For full COVID-19 health and safety updates, click here.
The Sydney Big Ticket is a multi-attraction pass that provides BIG savings when you combine unmissable Sydney attractions into one ticket - save up to $104! This can be a multiple attraction pass for two, three or four of our Sydney attractions. You have a full 30 days to visit the attractions with your Sydney Big Ticket pass - visit all in one day or spread the fun over the full 30 days. It's completely up to you!
You make great savings compared to buying individual tickets to the attractions. 
The Sydney Big Ticket allows you to combine unmissable Sydney attractions, including the SEA LIFE Sydney Aquarium, WILD LIFE Sydney Zoo, Madame Tussauds Sydney and Sydney Tower Eye.
We recommend that a quieter time of the day to visit can usually be found towards first admission or later on in the afternoon towards last admission, however we cannot guarantee that this is always the case. Weekends and school holidays are also busy periods.
Each Sydney multi-attraction ticket is valid for 30 days from the date of your first attraction visit. See it all in one day or spread the fun over the full 30 days. It's your choice!
Children are aged between 3 and 15 years. Children under 3 are welcome to visit our attractions for free.
No, children under 16 must be accompanied by an over 18 year old.
You will need the order confirmation email with the unique order ID number and the original credit card (if one was used) when you pick up your ticket. If the cardholder will not be present, please bring photo identification and a letter of authorisation if the order is under a different name. You will not be able to collect your ticket without these documents.
Big Bus Sydney is Sydney's only open top sightseeing tour bus which operates two routes included in one ticket: City and Bondi Beach. The tours feature commentary in 8 languages: English, Mandarin, Spanish, German, French, Italian, Korean and Japanese. You can purchase a 24-hour hop-on, hop-off pass when you get to the checkout basket when purchasing your attraction tickets.