Spooky animal encounters in Sydney this Halloween
Celebrate Halloween this year with some fang-tastic fun at WILD LIFE Sydney
Are you looking for some spooky activities to do in Sydney to celebrate Halloween this year? Come down to WILD LIFE Sydney and encounter some of our creepiest animals.
As the Tasmanian Devil howls and the Bush-stone Curlew releases her ghostly wail, the clock strikes midnight; the cobwebs descend and the night creatures awaken.... Halloween has descended on WILD LIFE Sydney. 
Wails, Howls & Growls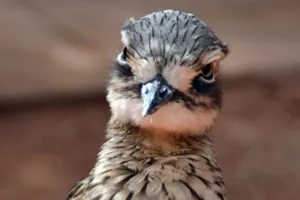 Bush-stone Curlew
Was that the wailing woman? No, that was Noname our Bush-stone Curlew. During breeding season these Australian birds release a spine-curling wail as a warning to keep others away from their territory. As a nocturnal species, they are most active at night. Meaning if you are creeping through the bush this Halloween and hear the ghostly scream, you may have entered their territory. 

*Can be found in Kangaroo Walkabout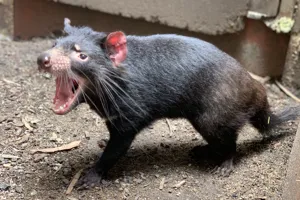 Tasmanian Devils
Is someone chewing loudly what haunts your dreams? The Tasmanian Devil is a scavenger, hunting for their food at night. While on the prowl, they make eerie howls and feast together on what they find. While feasting on the carcass, they all release harsh screeching and ferocious howls, that can be heard far and wide. 
*Can be found in Devils Den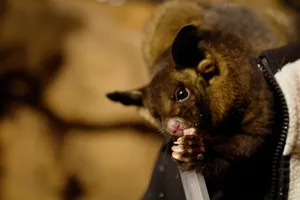 Yellow-bellied Gliders
As the sun sets and you settle into bed, you may hear a range of unnerving growls, shrieks, rattles and gurgles. No, your house is not haunted, but it may have a few Yellow-bellied Gliders in the trees outside. This Australian marsupial is quite a chatty creature and has a broad range of creepy calls as they growl to communicate with each other. 
*Can be found in Nightfall
The "Spookiest" Creatures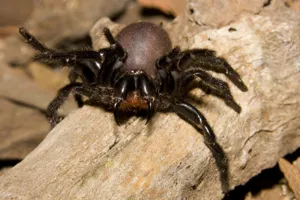 Funnel Web Spiders
As you step outside Halloween morning, you may notice the ghostly, white webs covering the ground. These irregular 'trip-lines' cover the entrance to the Funnel Web Spiders burrow beneath. Made of silk, these webs act as an early warning system for the Spider waiting just inside the dark entrance. When a beetle, cockroach, or small insect walks across the lines, the Funnel Web Spider will sense the vibrations and quickly spring out and trap it's prey. 
*Can be found at the Treehouse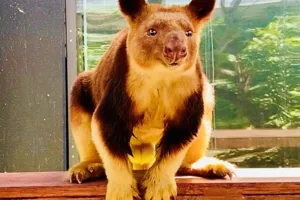 Goodfellow Tree Kangaroo
Don't let this sweet face fool you, behind the mask Kofi, our resident Goodfellow Tree Kangaroo is a trickster. From jumping around our keepers as they clean his enclosure, to throwing things at the Echidna's who live on the ground beneath him. This cheeky fellow keeps everyone on their toes. However like most he has a sweet tooth. When the keepers feed him some of his favourite sweet treats; from fruits to the sweetest flowers, he turns from trickster to a mellow fellow. 
*Can be found in Tricky Tongues & Treetops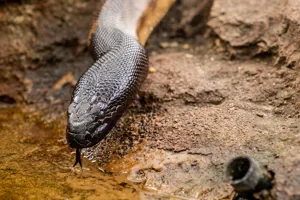 Black-headed Python
Did you feel a shiver down your spine? Have goosebumps just appeared on your arms? You could just be cold; lucky for the Black-headed Python, they can regulate body temperature. Black cats may be unlucky, but for the Black-headed Python their heads are very lucky! Their shiny, black heads can extend outside their burrow, while the rest of their body remains covered to heat up. When they need to cool down, they may bury their heads in the sand. Maybe black is only unlucky for some. 
*Can be found in Nightfall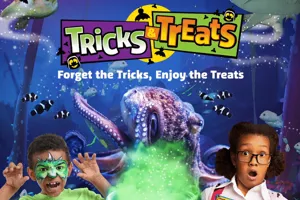 Tricks & Treats at SEA LIFE Sydney Aquarium
NEW for 2022! Dive into the spooky SEAson at SEA LIFE Sydney Aquarium, where you can forget the tricks because it's all about the treats this Halloween! With spooktacular activities along the way, there's plenty of spine-tingling fun for the whole family. PLUS, keep an eye out for some special treats which can be found along your Halloween adventure.
Trick and Treats event runs from 24th – 31st October. Book your tickets today!
Book Here
General Admission
Online From
$38.40
Per Person
Peak pricing applies to school holidays and weekends.

| | | | |
| --- | --- | --- | --- |
| Ticket Type | Walk Up Price/Peak Online | SAVE 20% - Pre-Book Online (Off Peak Weekdays) | High Demand Pricing |
| Adult | From $48 | From $38.40 | $50 |
| Child (3-15 yrs) | From $36 | From $28.20 | $38 |
| Student or Senior* | From $39 | From $31.20 | $41 |
| Child (0-2 yrs) | FREE | FREE | FREE |
| Merlin Annual Passholder | FREE | N/A | N/A |

Please note: Our ticket pricing is subject to available capacity and prices may fluctuate during periods of high demand.

Price includes Digi Photo Pass with 8 digital photos included (excludes Koala Photo experience)!
Children under 16 years of age must be accompanied by an adult (18+)
Get your ticket on your phone
Book this ticket if you have a multi attraction pass or gift voucher and need to select a date and time
Make sure you book a date and time to guarantee entry
Limited capacity
Book this ticket if you have an Annual Pass
Make sure you book a date and time to guarantee entry
Limited capacity