Sights you won't find anywhere else!
Tuesday 17th March 2020
Wildlife, Outback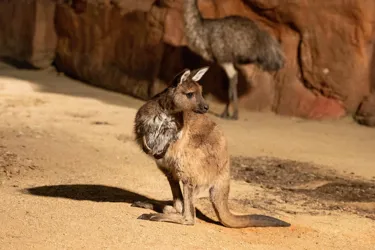 Ah, the Australian outback. The vast, remote beauty covering most of this enormous continent 'out the back' of cities. Wildlife tours, Indigenous Australian heritage and the most unbelievable landscapes. Looking for some of the best outback experiences from Sydney? Here we go!
Starry Nights
Behold, Australia's first 'dark sky park,' Warrumbungle National Park in central-western New South Wales is free from light pollution. Pitch a tent, contemplate the heavens, and bring out your inner astronomy photographer. By day, check out the 90-metre tall rock formation, Breadknife, along the Breadknife and Grand High Tops walk. With 360 degrees of rugged volcanic landscapes, you get to soak in that typical, dramatic Australian landscape.
The NSW National Parks and Wildlife Service (NPWS) page has great visitor info that makes it easy to go DIY.
Mars on Earth
New South Wales' south-west sports another stunning landscape that feels supremely ancient. At World-Heritage-Listed Mungo National Park, wander through deserts, dry lakes and mallee country. The area is named after Mungo Lady and Mungo Man who were buried together over 42,000 years ago by the shores of Lake Mungo. They are thought to represent some of the earliest forms of human spirituality. The 'energy' here is pure magic.
Again, make the most of NPWS's visitor info. There's even an awesome self-guided drive tour.
Stories and Sand Spectacles
In Mungo National Park, there's a guided outback tour with an NPWS Aboriginal ranger
who takes you to the famous Walls of China. Learn about the rich history of Australia's traditional owners while goggling over strange, spectacular sand and clay dunes – the Mars part!
An Outback Tour in the City
What about those outback tales you hear about snakes, spiders, crocodiles and other amazing critters? Or the cutest Australian fur-balls like koalas, wombats and baby roos? Well, you can see all of this incredible Australian wildlife up close at WILD LIFE Sydney Zoo Darling Harbour– in the heart of the Sydney CBD!
Here, journey from one outback world to another. Experience fragrant Gumtree Valley. Dare to traverse Kakadu Gorge. Get to know those who come out in Nightfall. Plus, so many more unique worlds to explore. Beyond wowing displays, there are immersive and interactive experiences like downing brekky with koalas, and learning about important wildlife conservation.
Book your tickets to WILD LIFE Sydney Zoo to save up to 20%!
Go Behind-the-Scenes
Level up with The Australian Wildlife Tour. The unforgettable WILD LIFE Sydney Zoo experience takes you through restricted zoo areas with plenty of animal selfie opportunities. Yup, we're talking clooose-up. *heart eyes* Passionate keepers will give you an even deeper download on Australia's favourite animals. Now's the time to ask all your burning questions. The perfect adventure for the true animal lover. You must book in advance to Save your spots.
Educational Excursions
If you lead school groups and holiday groups, why not run your own wildlife tour with WILD LIFE Sydney Zoo's self-guided programs? You can enjoy exploring the different animals and ecosystems at your own pace, or you can have an experienced guide on hand. Learn how to plan your exciting excursion and reach out for booking confirmation.