World Crocodile Day
Friday 17th June 2022
World Crocodile Day, Conservation, Animals, Australia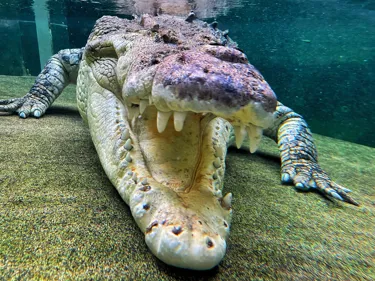 Happy World Crocodile Day! 
Happy World 'Croc' Day!
In celebration of World Crocodile Day, the team at WILD LIFE Sydney, treated our resident Saltwater Crocodile Rocky, to a little treat.
Measuring at 4.22m long and weighing at over 360kg, Rocky is a big boy. Despite his large size, Rocky doesn't require much food. Rocky gets fed once a week and loves to eat different types of raw meat, with one of his favourites being Barramundi.
Rocky is a bit a of a bad boy and how he found his way to us here at WILD LIFE Sydney is quite a story. Rocky comes from Rockhampton (hence his name) and his favourite pass time was chasing away all the windsurfers at a popular beach. As he was proving himself to be quite the little menace, Rocky was safely extracted and moved.
In the 1960s and 70s Saltwater Crocodiles were heavily hunted for their meat and leather and the population dipped. Thankfully, the government stepped in and helped to protect these pre-historic creatures. The population has done well since then; however, they still face a huge threat.
Just like in the 60s, Saltwater Crocodiles are still prized for their meat and leather. New threats facing Rocky's kind are habitat destruction and fishing nets.
Rocky is an ambassador for his species, playing an important role in educating the public on the ecological significance of marine species and the need for conservation and protection. World Crocodile Day recognises the plight of crocodiles in the wild and aims to educate the public on these fascinating creatures.
General Admission
Online From
$38.40
Per Person
Peak pricing applies to school holidays and weekends.

| | | | |
| --- | --- | --- | --- |
| Ticket Type | Walk Up Price/Peak Online | SAVE 20% - Pre-Book Online (Off Peak Weekdays) | High Demand Pricing |
| Adult | From $48 | From $38.40 | $50 |
| Child (3-15 yrs) | From $36 | From $28.20 | $38 |
| Student or Senior* | From $39 | From $31.20 | $41 |
| Child (0-2 yrs) | FREE | FREE | FREE |
| Merlin Annual Passholder | FREE | N/A | N/A |

Please note: Our ticket pricing is subject to available capacity and prices may fluctuate during periods of high demand.

Price includes Digi Photo Pass with 8 digital photos included (excludes Koala Photo experience)!
Children under 16 years of age must be accompanied by an adult (18+)
Get your ticket on your phone