We have welcomed two new Yellow-bellied Gliders
Wednesday 2nd June 2021
Animals, Yellow-bellied Gliders
Affectionately known as Fluffy Gliders, Yellow-bellied Gliders are listed as vulnerable under the NSW Threatened Species Conservation Act.
Marina Axia, Keeper at WILD LIFE Sydney Zoo, says "Corymbia and Leia are currently undergoing regular target training as part of their enrichment. Corymbia is thoroughly enjoying her training which involves the gliders' favourite treat, a sweet nectar mix."
Target training helps the Yellow-bellied Gliders become independent in their health and care as they volunteer themselves for tasks like weigh-ins. The training is also an important part of their bonding experience with the keepers which will help guests learn about how they can help protect this wonderful native Australian species.
"Not only are our new Yellow-bellied Gliders adorable, social and known for having some of the softest hair of any animal in the world, they can also glide for up to 114 metres, which is longer than a football field," says Marina.
Of the six gliding marsupials found in Australia, the Yellow-Bellied Glider is the most vocal, with a fantastic vocal range of shrieks, rattles, and gurgles. Yellow-bellied Gliders can live up to 10 years and weigh between 435-710 grams. "From our recent volunteer weigh-in our 3-year-old Corymbia is weighing in at 660g, while 12-year old Leia currently weighs 535g." says Marina.
You can now visit these fluffy friends at WILD LIFE Sydney Zoo in the nocturnal nightfall habitat. Marina says "The best time to visit our Yellow-bellied Gliders is during when they get fed at midday"
Learn more about Yellow-bellied Gliders and other vulnerable creatures at WILD LIFE Sydney Zoo in Darling Harbour. With more NSW residents using their 'Dine & Discover' vouchers at Sydney Zoos now is the perfect time to use your Discover voucher to visit our new furry friends.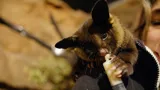 General Admission
Online From
$38.40
Per Person
Peak pricing applies to school holidays and weekends.

| | | | |
| --- | --- | --- | --- |
| Ticket Type | Walk Up Price/Peak Online | SAVE 20% - Pre-Book Online (Off Peak Weekdays) | High Demand Pricing |
| Adult | From $48 | From $38.40 | $50 |
| Child (3-15 yrs) | From $36 | From $28.20 | $38 |
| Student or Senior* | From $39 | From $31.20 | $41 |
| Child (0-2 yrs) | FREE | FREE | FREE |
| Merlin Annual Passholder | FREE | N/A | N/A |

Please note: Our ticket pricing is subject to available capacity and prices may fluctuate during periods of high demand.

Price includes Digi Photo Pass with 8 digital photos included (excludes Koala Photo experience)!
Children under 16 years of age must be accompanied by an adult (18+)
Get your ticket on your phone