The Goodfellow's Tree Kangaroo
Friday 20th May 2022
Tree Kangaroo, Conservation, Wildlife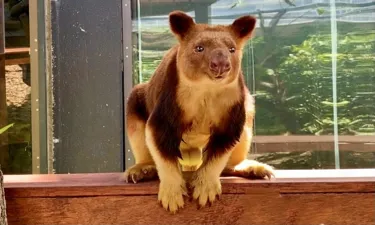 World Tree Kangaroo Day <H2>
May 21st is World Tree Kangaroo Day. Here is all you need to know about these tree-dwellers. 
The Goodfellow's Tree Kangaroo is a sub-species of the Tree Kangaroo. These cheeky, beautiful marsupials can be found 60 feet above ground level, in the trees of the Northern region of Queensland and Papua-New Guinea.
What makes them different from the ground-dwelling Kangaroos? <H2>
Tree Kangaroos are able to move their back legs independently from each other to help them climb the trees.
They have shorter limbs, sharper claws and special padding on their paws so they can climb on trees.
They are an endangered species.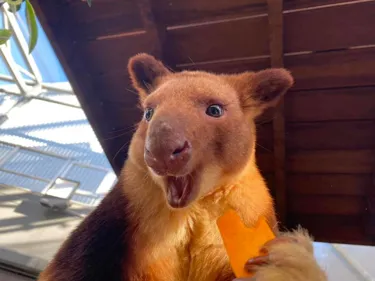 Tree Kangaroos are Endangered Animals <H2>
These chestnut-coloured Kangaroos are classified endangered by the IUCN Red list. There are multiple reasons these creatures are becoming so few with the main reason being habitat destruction through:
Logging
Mining
Palm oil plantations
Locals clearing the land for personal needs.
Hunting is also a big reason why these furry creatures are becoming endangered.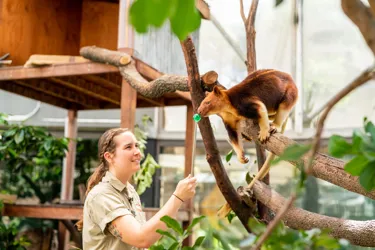 What is being done to help the declining population of the Tree Kangaroo and what can you personally do?  <H2>
One thing you can do is buy sustainable palm oil. Look for the check of approval when buying products that use palm oil.
Across Australia, conservation efforts are being done to help build back up the population, through breeding programs that our very own Kofi here at WILD LIFE Sydney is participating in.
Kofi is still quite young so once he is a little older and we find him a suitable female match, he will be a part of the program to build back once again, his population.
Want to come and see a Tree Kangaroo up close? Head on into WILD LIFE Sydney and say hello to our guy.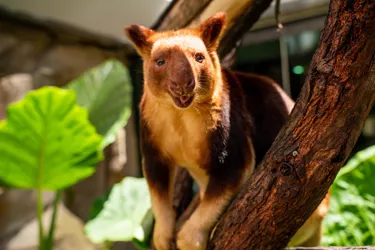 General Admission
Online From
$38.40
Per Person
Peak pricing applies to school holidays and weekends.

| | | | |
| --- | --- | --- | --- |
| Ticket Type | Walk Up Price/Peak Online | SAVE 20% - Pre-Book Online (Off Peak Weekdays) | High Demand Pricing |
| Adult | From $48 | From $38.40 | $50 |
| Child (3-15 yrs) | From $36 | From $28.20 | $38 |
| Student or Senior* | From $39 | From $31.20 | $41 |
| Child (0-2 yrs) | FREE | FREE | FREE |
| Merlin Annual Passholder | FREE | N/A | N/A |

Please note: Our ticket pricing is subject to available capacity and prices may fluctuate during periods of high demand.

Price includes Digi Photo Pass with 8 digital photos included (excludes Koala Photo experience)!
Children under 16 years of age must be accompanied by an adult (18+)
Get your ticket on your phone