International Friendship Day
Monday 1st August 2022
International Day of Friendship, Tree Kangaroo, Wildlife, Friendship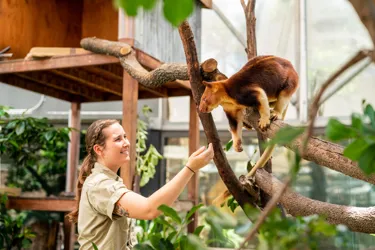 Happy International Day of Friendship! 
This year on the International Day of Friendship (30 July), WILD LIFE Sydney Zoo is sharing the story of an adorable friendship between Kofi the Goodfellow's tree kangaroo and his head keeper, Curatorial Supervisor, Renee Howell.
Kofi is WILD LIFE Sydney Zoo's first Goodfellow's tree kangaroo. The fluffy, blue-eyed adorable creature loves climbing trees, boiled eggs and spending time with Renee.
He is one of the few tree kangaroos in human care around the world, arriving in his Darling Harbour home after midnight on the Monday, 2 November 2020, where he and Renee began their special bond.
"I stayed at work until he arrived and opened the crate for his first view of his new home. Since this day I have been Kofi's primary keeper going through the trained behaviours of target training, voluntary weighing, stationing and have now began crate training him," said Howell.
"Kofi quickly stole a little piece of my heart, smashing his training and being the most expressive animal, I have had the pleasure to work with.
"Not only do we share our training bond, we also share the love of a few of our favourite foods. Sweet potato, banana and boiled egg are favourites for both of us.
"I'm always so happy to see him and he is seemingly happy to see me, sitting for our smiley selfies and enjoying the international love he has gained through social media. One of his fans even sent him a bed from Europe. Our selfies show our same expressions and some even say we have the same eyes.
"I have Kofi, and two of the other animals I've worked with tattooed on my arms. Our wombat Ringo and a male koala who no longer calls WILD LIFE Sydney Zoo home, Jarrah.
"Everyone knows how much I love Kofi and they always ask me if I want to feed or service his enclosure. I obviously oblige- sneaking in an extra treat or two." Howell concluded laughing.
Although labelled a 'kangaroo', Kofi and other Goodfellow's tree kangaroos are one of 14 tree kangaroo species that appear and act much differently to the kangaroos you are probably familiar with.
Calling dense tropical rainforests home, Goodfellow's tree kangaroos are perfectly adapted to life in the tree tops. They are herbivores, feeding on leaves, flowers and fruit. They have adapted to life in the trees, with their shorter limbs, sharp claws and the ability to move their back legs independently.
At WILD LIFE Sydney Zoo, Kofi is part of the species management plan and breeding program for Goodfellow's tree kangaroos. When a genetically appropriate mate for Kofi is found, his genetics will be passed on, to help ensure the diversity amongst the individuals in human care is as great as possible.
The Goodfellow's tree Kangaroo is classified as endangered on the IUCN Red List due to an ongoing population decline in Papua New Guinea.
Habitat destruction through logging, mining, palm oil plantations and locals clearing for their personal needs, continue to destroy the natural habitat of the tree kangaroos. This species is also still affected by hunting.
General Admission
Online From
$38.40
Per Person
Peak pricing applies to school holidays and weekends.

| | | | |
| --- | --- | --- | --- |
| Ticket Type | Walk Up Price/Peak Online | SAVE 20% - Pre-Book Online (Off Peak Weekdays) | High Demand Pricing |
| Adult | From $48 | From $38.40 | $50 |
| Child (3-15 yrs) | From $36 | From $28.20 | $38 |
| Student or Senior* | From $39 | From $31.20 | $41 |
| Child (0-2 yrs) | FREE | FREE | FREE |
| Merlin Annual Passholder | FREE | N/A | N/A |

Please note: Our ticket pricing is subject to available capacity and prices may fluctuate during periods of high demand.

Price includes Digi Photo Pass with 8 digital photos included (excludes Koala Photo experience)!
Children under 16 years of age must be accompanied by an adult (18+)
Get your ticket on your phone