Frankie, Australia's famous rescue numbat, relocates for a new life in Sydney
Tuesday 15th December 2020
Numbat, Conservation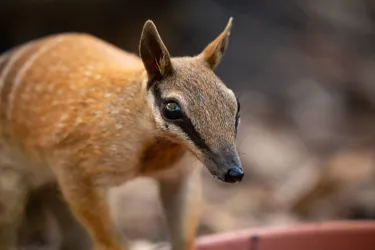 We have welcomed one of Australia's cutest celebrities at WILD LIFE Sydney Zoo - Frankie the famous rescue numbat!
As domestic border restrictions continued to ease last week, the 490-gram rescue marsupial travelled nine hours from Perth Zoo to WILD LIFE Sydney Zoo in Darling Harbour where he settled into his new home.
Although new to Sydney, Frankie is no stranger to locals who first heard of the numbat in 2016 when he was found abandoned and separated from his mother. The then barely seven-month-old was taken into the care of Western Australian community group Project Numbat and shortly after adopted and raised by specialists at Perth Zoo.
Fast-forward four years and Frankie was healthy, happy and ready for a new adventure, so he set off to complete his first domestic flight to Sydney. His successful journey ended with him stepping into the new Tricky Tongues and Treetop habitat, a split space with one side designed specifically for Frankie's needs and the other for Kofi the Tree Kangaroo who arrived last month.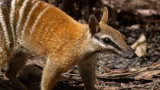 On the east coast at WILD LIFE Sydney Zoo, Frankie will act as an important ambassador by raising awareness and educating visitors on the endangered status of numbats and their critically low numbers in the wild.
"There aren't many other numbats on the east coast of Australia and less than 1,000 in the wild on the west coast," said Melanie Higgins, WILD LIFE Sydney Zoo ZooKeeper. "We're really excited to have him as a new addition to our family and give visitors the chance to learn about this beautiful Western Australian animal right in the heart of Darling Harbour."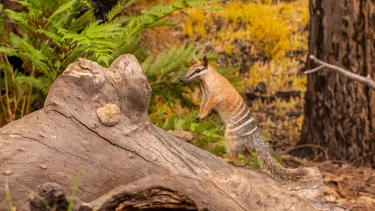 Perth Zoo's Supervisor of Zoology, Cathy Lambert, said: "Frankie's life story, thus far has been an adventurous one. Orphaned, raised by zoologists and now graduating from Perth Zoo to be the first numbat on display in Sydney. He is a true ambassador for his species and we hope will shine a light on Western Australia's endangered fauna emblem. "
Frankie and his fellow numbats are native to Western Australia where they are classified as endangered due to habitat loss and invasive predators such as cats and foxes. Community groups such as Project Numbat were established to raise awareness of the numbat and carry out conservation work such as habitat management and population monitoring. Last week, the species was re-introduced to fenced communities in South Australia and NSW where they haven't been seen in the wild for more than 100 years.
Download WILD LIFE Sydney Zoo and SEA LIFE Sydney Aquarium's Aussie Animal Passport this summer, journey through the zoo and aquarium and get up close to some of Australia's most iconic creatures, in the heart of Sydney.
General Admission
Online From
$38.40
Per Person
Peak pricing applies to school holidays and weekends.

| | | | |
| --- | --- | --- | --- |
| Ticket Type | Walk Up Price/Peak Online | SAVE 20% - Pre-Book Online (Off Peak Weekdays) | High Demand Pricing |
| Adult | From $48 | From $38.40 | $50 |
| Child (3-15 yrs) | From $36 | From $28.20 | $38 |
| Student or Senior* | From $39 | From $31.20 | $41 |
| Child (0-2 yrs) | FREE | FREE | FREE |
| Merlin Annual Passholder | FREE | N/A | N/A |

Please note: Our ticket pricing is subject to available capacity and prices may fluctuate during periods of high demand.

Price includes Digi Photo Pass with 8 digital photos included (excludes Koala Photo experience)!
Children under 16 years of age must be accompanied by an adult (18+)
Get your ticket on your phone