Faith The Sixteen-Year-Old Koala
Monday 9th August 2021
Koala, Faith, Oldest Koala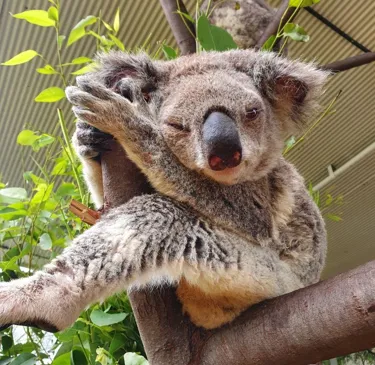 It is with a heavy heart that the WILD LIFE Sydney Zoo family advises of the passing of our beautiful Koala, Faith, who passed away last week. Faith was an impressive 16 years of age and was considered to be one of the oldest koalas known in human care. Typically koalas live until 10-12 years when living in the wild. Faith had been on palliative care and frequent veterinary assessment over the last few months and following a quality of life assessment last Thursday the difficult decision was made that euthanasia was in Faith's best interest.
Faith first arrived at WILD LIFE Sydney Zoo in 2006 from Hamilton Island and over the course of her residency, she became a mother, grandmother, and even became a great grandmother last year. It was Faith's stubborn but sweet personality that brought so much joy to both Zookeepers and the zoo's guests.
Senior Keeper Ash remembers: "Faith loved her favourite spots to nap. Even if it was pouring rain, she would still sit in her favourite place. She was big on her personal space and would vocalise her displeasure at the other koalas if they tried to approach her spot. Every keeper that has ever cared for Faith has so many lasting memories of this wonderful koala that they will always cherish."
Faith was an important member of the zoo's family and her loss is being felt by all staff, especially those who worked with her day-to-day. We are thinking of all those that played a part of Faith's incredible life during this time.