A 'Cracking' New Product Launch
Friday 5th October 2018
Conservation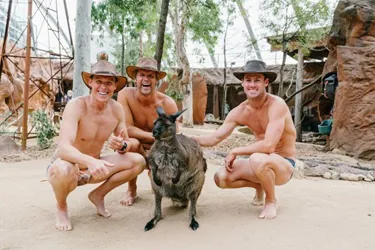 We've had a 'crack' at a new fashion line, partnering with Budgy Smugglers Swimwear to create a pair of Australian-animal inspired trunks! Created in celebration of World Animal Day, the new designs are a tribute to two of Australia's most iconic animals, the cuddly koala and snappy crocodile.
Featuring Rocky the crocodile on the front and Alfie the koala on the front, all proceeds from the sale of each pair will go directly to the Wild Life Conservation Fund.
Bondi Rescue Lifeguards Andrew 'Reidy' Reid, Trent Falson and Clint Kimmins were the first to road test the new designs commenting: "We love them! Super comfy and definitely a different design to wear on the beach this summer. We also love that the proceeds are going to the Wild Life Conservation Fund."
 Jarrod Allen, Head of Research and Development at Budgy Smuggler said they were thrilled to partner with Wild Life Sydney Zoo and relish in the opportunity to create new quirky design.
"When we were approached for this collaboration, we jumped at the chance to get on board and create some uniquely Australian designs. The kicker is that all our swimwear is made here in Australia, too! These snappy new Smugglers are available at BudgySmuggler.com.au from Saturday 6 October", said Mr Allen.
Proudly supporting the Wild Life Conservation Fund, the new Budgy Smugglers are on sale from Saturday 6 October.