New Yellow-Foot Rock Wallabies
What should we call them?
WILD LIFE Sydney Zoo is excited to announce the arrival of three young female Yellow-footed Rock Wallabies!
Yellow-footed Rock Wallabies were once found throughout semi-arid parts of South Australia (Gawler, Flinders and Olary Ranges), New South Wales (Gap and Cotauraundee Ranges) and South-West Queensland.
However, following European settlement, their population and distribution have significantly declined, so much so, that this striking species is nationally classified as vulnerable and endangered within NSW.
The ages of the new wallabies range from 9 to 18 months old. The smallest weighing in at just 2kg!
"The sisters are settling into their new home, they are growing in confidence around the keepers and getting along well with our older existing two female yellow-footed Rock Wallabies, Ella and Myrtle as well as the resident Bare-nosed Wombat, Ringo." Said Katherine Tanks, Zookeeper – WILD LIFE Sydney Zoo.
WILD LIFE Sydney Zoo is now searching for three fitting names for the latest arrivals! Merlin Annual Pass holders can vote for their favourite names from the keepers' shortlist reflective of flora native to the Flinders Ranges. Voting is open for a limited time. To cast a vote click one of the options below:
For more information about the wallabies at the zoo visit here – see if you can spot them in the wallaby cliffs by pre-booking here!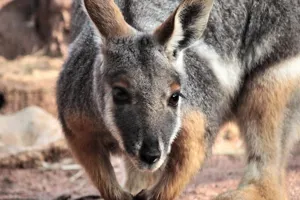 Thanks for voting
Once the votes have been cast and counted the names will be released on our social channels. 
Then come on in and see our new additions in person!