Meet the cutest Aussie Mob
Get hopping into WILD LIFE Sydney Zoo to meet the cutest Aussie Mob in Sydney, aka our newest resident Kangaroo Island Kangaroos.
Joining guests' favourites Dusk and Dot in the outback-inspired Kangaroo Walkabout this September are three beautiful new roos – Nutmeg, Kirby and Julie.
Families stopping by during will be able to meet these extraordinary marsupials who love to socialise, enjoy attention and are always on the lookout for their next feed.
Beyond meeting the mob, families will discover a pouch deep of fun facts about the Kangaroo Island Kangaroos including the reasons behind their darker and shorter fur, their trusting nature and their slower hops.
Make sure you pre-book your ticket to guarantee entry:
Book Now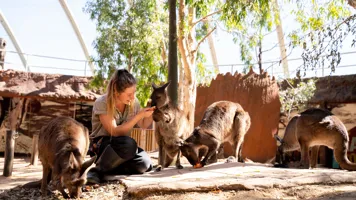 Top Tips
Please make sure you have pre-booked a timeslot by selecting the date and timeslot of your visit using the following link to guarantee entry
Please note that the attraction is currently open 5 days a week (closed Tuesdays and Wednesdays) last entry 3:00pm - until further notice
Before leaving home, please check our Facebook page or website for the latest information.
Please be ready to make on-site payments using a 'contactless' bank card, rather than cash.
We politely request that you refrain from visiting our WILD LIFE Sydney Zoo should you start displaying any of the symptoms associated with COVID-19.
Please make sure you are familiar with all our health and safety measures before your visit.