Allan the Python and his Koala Plush
Saturday 16th July 2022
World Snake Day, Snakes, Australia, Enrichment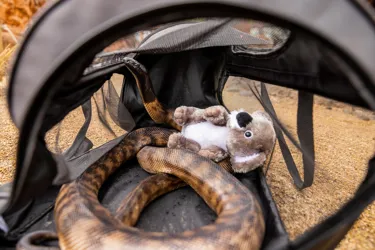 WILD LIFE Sydney Zoo Celebrates Animals' "Choices" on World Snake Day
WILD LIFE Sydney Zoo in Darling Harbour is celebrating World Snake Day and the animals' choices, making snake training hiss-tory.
Snake training has been seeing new horizons with positive reinforcement training and at WILD LIFE Sydney Zoo, Allan, a 17-year-old Black-headed python, is leading the charge.
"Here at WILD LIFE Sydney Zoo, we like to provide our animals with choice, and today Allan has decided to come into his pet-pack and is giving his koala plush a little snuggle. Now we'll see if he wants to stay in there, or if he wants to come out and bask in the sunshine". Said Marina Betrus, his head keeper.
Before the training began, Allan was asked to choose his primary reinforcer. For many species this would be food. However, reptiles including snakes don't have the same needs as other animals like mammals and birds. Allan chose his favourite enrichment item, a fluffy plush koala toy.
To begin a training session Marina places the koala inside a soft transport carrier. Nine times out of ten, Allan will choose to enter the carrier to enjoy the smell and feel of his Koala Plush. Alternatively, his choice to stay inside his enclosure would be respected.
Between 2.15pm and 2.45pm on Saturday 17 July, in celebration of World Snake Day, passionate and knowledgeable keepers at WILD LIFE Sydney Zoo, will be bringing out one of our non-venomous snakes, to give guests the opportunity to see and learn about them up-close.
Whether that be Shnooks the Olive Python, William the Woma Python, Allan the Black-headed Python or other, will depend on the animals' choices on the day.
Animal training is an important part of the daily routine in a modern-day zoo. At WILDLIFE Sydney Zoo, positive reinforcement training allows keepers to perform daily management, health care and enrichment for our creatures.
Guests can discover Allan in our Nightfall habitat, with many other Nocturnal Species including Bilbies and Gliders. Reversed light cycles, give guests the opportunity to view nocturnal animals in the daytime.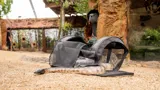 General Admission
Online From
$38.40
Per Person
Peak pricing applies to school holidays and weekends.

| | | | |
| --- | --- | --- | --- |
| Ticket Type | Walk Up Price/Peak Online | SAVE 20% - Pre-Book Online (Off Peak Weekdays) | High Demand Pricing |
| Adult | From $48 | From $38.40 | $50 |
| Child (3-15 yrs) | From $36 | From $28.20 | $38 |
| Student or Senior* | From $39 | From $31.20 | $41 |
| Child (0-2 yrs) | FREE | FREE | FREE |
| Merlin Annual Passholder | FREE | N/A | N/A |

Please note: Our ticket pricing is subject to available capacity and prices may fluctuate during periods of high demand.

Price includes Digi Photo Pass with 8 digital photos included (excludes Koala Photo experience)!
Children under 16 years of age must be accompanied by an adult (18+)
Get your ticket on your phone