Surviving Lockdown During School Holidays
Wednesday 30th June 2021
School Holidays, Lockdown
If you're a parent based in NSW, there's a good chance that you're juggling lockdown in the rain, AND to top it off, it's the school holidays. Tearing your hair out? Fear not, WILD LIFE Sydney Zoo and SEA LIFE Sydney Aquarium are here to help! The two Darling Harbour attractions have just launched the Wild Holiday Hub - the ultimate online destination for parents looking for fun and educational activities to keep the kids entertained these winter school holidays.
The Wild Holiday Hub offers a range of activities that have been expertly curated by Merlin Entertainments' Curatorial and Education teams to appeal to the following three age categories:
Fishy and Fluffy Friends: designed for pre-schoolers (2-5 year old), this contains colouring-in activity sheets and video links to story time at the Zoo.
Junior Keepers: designed for junior primary school kids (5-8 year old), this contains information sheets on popular animals including sharks and penguins, word search games, dot-to-dots, and fun plus simple educations sheets to support their learning and development in a fun and engaging way.
Creature Questers: designed for senior primary school kids (8-11 year old), this contains craft videos – from how to recycle household items for art - to educational task sheets. There are also video links to Q&As with Keepers and everything little minds need to become a Junior Keeper!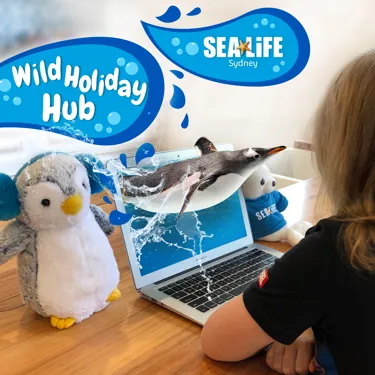 All content on the Wild Holiday Hub is created with inquisitive little brains in mind and is downloadable from this link here.
The Hub will be updated regularly to ensure the content is new, exciting, and relevant!
To kick off the launch, WILD LIFE Sydney Zoo will host an adorable LIVE session with their Koala Keepers and two adorable Koala Joeys at 10am on Friday 2nd July – WILD LIFE Sydney Zoo's Keepers will be introducing you to two adorable joeys, plus a little surprise! Tune in here: https://www.facebook.com/wildlifesydney/
Visit The Hub Now