Un-Wrapping Christmas
Tuesday 20th December 2022
Christmas, Conservation, Wild Life, Wrapping Paper, Recycle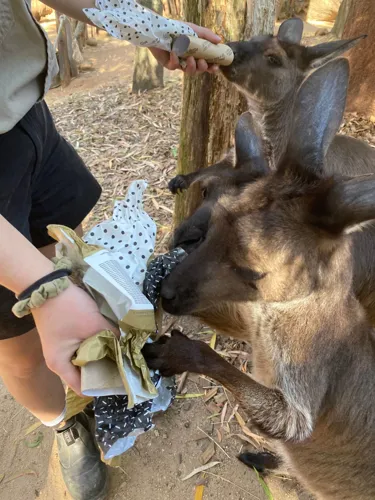 Which wrapping paper is recyclable and which isn't? 
Christmas Day is a time of merriment, joy, food, and gifts. Each year it is estimated that Australians use more than 150,000km of wrapping paper each year. This is enough to wrap around the earth's equator nearly 4 times!!
With so much wrapping paper, what do you do with it afterwards? Here are our top tips on how to recycle your wrapping paper to help stop it from entering the environment.

TOP TIP 1: Cardboard and Paper Wrapping Paper
These can be put straight into the recycling bin! Worried about the sticky tape? Don't stress sticky tape will be removed during the pulping process when recycled.
TOP TIP 2: Foil and Plastic wrapping Paper
These are not recyclable, so make sure you separate them from the paper that is. Instead, you can re-use this paper or get creative and turn it into a fun craft project.
TOP TIP 3: Cellophane
This can be confusing as there are 2 different types of cellophane! The first type is plastic-based and can't be recycled and the 2nd type may be made from cellulose, which is biodegradable and can be chucked in the compost. The best way to test which type you have is either read the packaging or the 'tear' test. If you can tear it, it's cellophane, if it stretches instead it's plastic!
General Admission
Online From
$38.40
Per Person
Peak pricing applies to school holidays and weekends.

| | | | |
| --- | --- | --- | --- |
| Ticket Type | Walk Up Price/Peak Online | SAVE 20% - Pre-Book Online (Off Peak Weekdays) | High Demand Pricing |
| Adult | From $48 | From $38.40 | $50 |
| Child (3-15 yrs) | From $36 | From $28.20 | $38 |
| Student or Senior* | From $39 | From $31.20 | $41 |
| Child (0-2 yrs) | FREE | FREE | FREE |
| Merlin Annual Passholder | FREE | N/A | N/A |

Please note: Our ticket pricing is subject to available capacity and prices may fluctuate during periods of high demand.

Price includes Digi Photo Pass with 8 digital photos included (excludes Koala Photo experience)!
Children under 16 years of age must be accompanied by an adult (18+)
Get your ticket on your phone