Sensory Lizard Encounter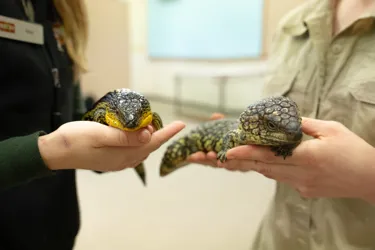 Let's Celebrate World Lizard Day. 
Han the blotched blue-tongue lizard, Speckles the shingleback skink and keepers Emily and Holly, from WILD LIFE Sydney Zoo, took to the road, bound for NextSense School.
There, students with sensory disabilities, from three programs; Blind and DefBlind, Sign Bilingual and Spoken Language, were excited and ready to have a tactile and educational animal encounter, in celebration of World Lizard Day, Sunday 14 August.
The event was organised for Merlin's Magic Wand, a charity run by Merlin Entertainments, the parent organisation of attractions including WILD LIFE Sydney Zoo, SEA LIFE Sydney Aquarium, Madame Tussauds Sydney and Sydney Tower Eye. The program looks for opportunities to bring magical, educational experiences to children who need it the most.
Conditioning of Han, a 700g 8 year old blue-tongue and Speckles an 800g 19 year old shingleback, is part of their training, enabling keepers to conduct regular and stress-free health checks. The training is positively reinforced with some of the lizards' favourite treats, including strawberries and banana.
The Next Sense students were able to discover firsthand, the differences between the lizards, who come from the same skink family, and share a vivid blue tongue, but look and feel quite different.
The first felt the smooth, shiny keratin scales of the blotched blue-tongue, before stroking the contrasting rougher calcified keratin scales of a shingleback, often referred to as a pine cone lizard, due to the appearance of the armour-like scales.
Socorro Amas, Deputy Principle of the NextSense School said, "Today was a fabulous experience for the children, as they can link it to their last term, learning about living things in science, also because this is a hands-on experience of living things. It is something they don't usually encounter and is a special experience I'm sure they will remember for the rest of their lives."
Keeper Emily Partridge said, "It was really rewarding to see how much enjoyment the kids got out of our visit today. Some of them were a little shy and nervous at first, but soon became much more confident, wanting to gently touch the lizards and ask more and more questions".
Keeper Holly Gilbert added "They had some really good questions, which were great to answer and it looked as though they were learning a lot and really enjoying it. It means a lot to the WILD LIFE Sydney Zoo team, to be able to carry out experiences like today".
WILD LIFE Sydney Zoo, showcases all the quintessential native Australian animals under one roof. More than a tourism attraction, the dedicated team are highly committed to breeding, conservation and rescue programs.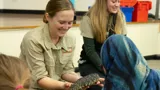 General Admission
Online From
$38.40
Per Person
Peak pricing applies to school holidays and weekends.

| | | | |
| --- | --- | --- | --- |
| Ticket Type | Walk Up Price/Peak Online | SAVE 20% - Pre-Book Online (Off Peak Weekdays) | High Demand Pricing |
| Adult | From $48 | From $38.40 | $50 |
| Child (3-15 yrs) | From $36 | From $28.20 | $38 |
| Student or Senior* | From $39 | From $31.20 | $41 |
| Child (0-2 yrs) | FREE | FREE | FREE |
| Merlin Annual Passholder | FREE | N/A | N/A |

Please note: Our ticket pricing is subject to available capacity and prices may fluctuate during periods of high demand.

Price includes Digi Photo Pass with 8 digital photos included (excludes Koala Photo experience)!
Children under 16 years of age must be accompanied by an adult (18+)
Get your ticket on your phone
4 Attraction Pass
Online From
$85
Per Adult
When Bought Separately
$180
Per Adult
Visit all 4 attractions and save over 50%!
One visit to SEA LIFE Sydney, Madame Tussauds Sydney and The Sydney Tower Eye
Visit your second attraction within 60 days after visiting WILD LIFE – please note that Sydney Tower Eye is currently closed on Tuesdays & Wednesdays outside of school holidays
Price includes Digi Photo Pass with 8 digital photos included!