'Peek-a-boo!' says baby koala joey, Parker!
Wednesday 19th July 2023
Animals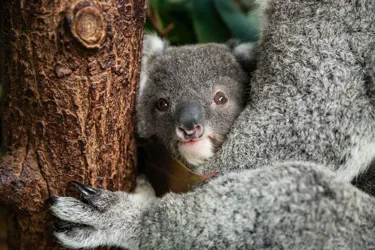 Get ready for an explosion of cuteness as we announce a precious, Endangered koala joey to our attraction!
The nine-month-old male joey, named Parker, is a living testament to our zoo's breeding program. Parker has spent his first six months snuggled safely inside his mother's pouch before popping out to surprise keepers and guests with his irresistible charm.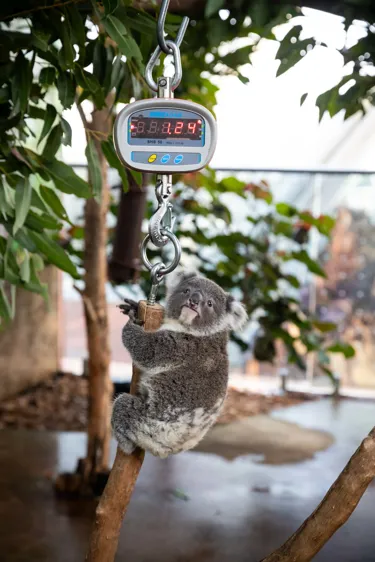 Parker has been hitting all of his milestones and today, during his very first weigh-in, he delighted keepers with his weight progress – reaching a perfect 1.24 kilograms! This is a big difference from his birth weight of just one gram! Like all marsupials, Koala joeys enter the world under-developed before making the journey to their mum's pouch, where they continue to grow and develop.
Parker has now emerged from Mum Kyara's pouch, regularly hitching a ride on her back and familiarising himself with the outside world.
Did you know that koala mums provide their joeys with a sample of their poo, in a process known as 'papping'? Koala joeys must digest this nutrient-rich delicacy to ensure their gut flora is well prepared to allow the digestion of highly toxic eucalyptus leaves.
Our koala keeper, Chloe Richards, has expressed her excitement, saying, "We couldn't be happier to welcome this adorable new addition to our WILD LIFE Sydney family. Parker is a symbol of hope for the future of koalas, whose populations have been significantly impacted by habitat loss and unprecedented changes in our climate, including the horrific 2019/2020 bushfires, which is estimated to have killed 1 billion native animals."
Australia's wild koala population was re-assessed and re-classified to Endangered on 12 February 2022, granting the species higher priority for protection with increased efforts by conservation groups, including zoos.
You can get up close to our nine resident koalas by participating in a Koala Photo Experience, or stay tuned for the launch of our Koala Breakfast experience! 
General Admission
Online From
$38.40
Per Person
Peak pricing applies to school holidays and weekends.

| | | | |
| --- | --- | --- | --- |
| Ticket Type | Walk Up Price/Peak Online | SAVE 20% - Pre-Book Online (Off Peak Weekdays) | High Demand Pricing |
| Adult | From $48 | From $38.40 | $50 |
| Child (3-15 yrs) | From $36 | From $28.20 | $38 |
| Student or Senior* | From $39 | From $31.20 | $41 |
| Child (0-2 yrs) | FREE | FREE | FREE |
| Merlin Annual Passholder | FREE | N/A | N/A |

Please note: Our ticket pricing is subject to available capacity and prices may fluctuate during periods of high demand.

Price includes Digi Photo Pass with 8 digital photos included (excludes Koala Photo experience)!
Children under 16 years of age must be accompanied by an adult (18+)
Get your ticket on your phone
Koala Photo
Online From
$30
For up to 2 People
Please note: You will require a form of admission to use this experience
A memorable photo opportunity
Private session with a koala keeper inside the enclosure
Get your ticket on your phone