Opal the shy Bilby is ready for the Easter rush!
Friday 15th April 2022
Easter, Bilby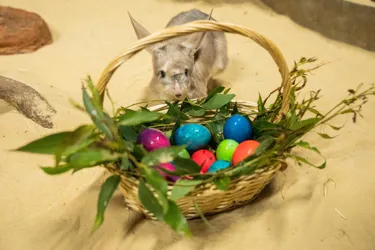 Opal the shy Bilby is ready for the Easter rush at WILD LIFE Sydney Zoo and can be seen in the Nightfall zone, eating her hard boiled eggs, as you'd expect from an Easter Bilby.
Opal has been in a new training program for almost a month and is making good progress, voluntarily stepping into her pet pack 3 to 4 times a week and interacting with guests, during surprise and delight meet-and-greets over the Easter holidays.
Opal's training program helps her keepers conduct regular weight and health check and calmly prepares her, for her annual visit with WILD LIFE Sydney Zoo's vet.
WILD LIFE Sydney Zookeeper Lily William's said "We love seeing the progress Opal is making. She's shyer, but more active, than previous Bilbies at WILD LIFE Sydney Zoo here in Darling Harbour. She needs enrichment, patience and a gentle approach, and I've spent time getting to understand her moods and to know her favourite foods, which are undoubtably super worms."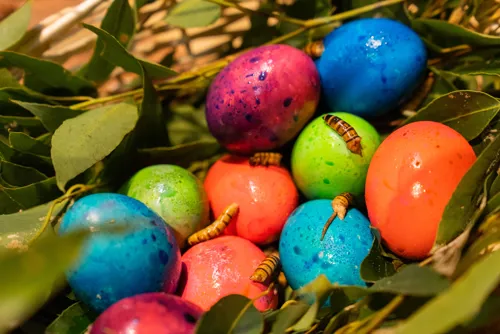 The 1.5kg nocturnal marsupial, now 6 years in age, has also been enjoying recent enrichment activities including a Lego castle and a puzzle feeder ball, that she rolls around to release the seeds within.
"Opal is a fantastic character! She's very curious and will stand up like a meerkat to look around and investigate new smells. She doesn't like to be woken too early in the morning and will hiss to tell us she wants to go back to sleep.
"Bilbies are independent creatures. While they will live together for breeding, they are happy to be solitary (then she doesn't have to share her superworms!). Though she does enjoy meeting members of the public on occasion when they have special treat to give her." keeper Lily Williams continued.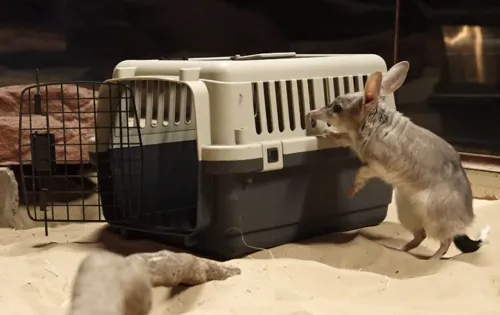 Over the Easter holidays, as a surprise and delight, a few lucky visitors will be invited to step inside her enclosure to meet Opal, sit on a log and feed her treats, which include super worms, mung beans and hard boiled eggs.
During these guest encounters, Opal sometimes holds into the side of the food container, to ensure her food is not taken away from her too soon.
WILD LIFE Sydney Zoo is committed to helping restore the Bilby population and welcomed Opal in 2016 as part of a breeding program. Bilbies are an endangered species, with feral cats and foxes among their top threats. They are a 'keystone species' and their survival increases the chances of survival of 19 other threatened species. 
Those keen so see Opal the Bilby, can visit her in our Nightfall zone, where she is often seen interacting with children who like to run alongside the glass of her enclosure.
General Admission
Online From
$36.80
Per Person
Peak pricing applies to school holidays and weekends.

| | | |
| --- | --- | --- |
| Ticket Type | Walk Up Price/Peak Online | SAVE 20% - Pre-Book Online (Off Peak Weekdays) |
| Adult | $46 | $36.80 |
| Child (3-15 yrs) | $34 | $27.20 |
| Student or Senior* | $37 | $29.60 |
| Child (0-2 yrs) | FREE | FREE |
| Merlin Annual Passholder | FREE | N/A |

Price includes Digi Photo Pass with 8 digital photos included (excludes Koala Photo experience)!
Get your ticket on your phone
2 Attraction Pass
Online From
$58
Per Adult
Choose from: SEA LIFE Sydney Aquarium, Madame Tussauds Sydney or Sydney Tower Eye
Visit your second attraction within 30 days
Price includes Digi Photo Pass with 8 digital photos included!