Meet our newest Kangaroos
Thursday 17th September 2020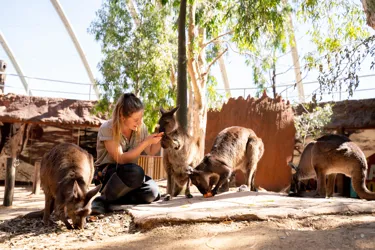 Get hopping into WILD LIFE Sydney Zoo these Spring school holidays to meet the cutest Aussie six-pack in Sydney, aka our newest resident Kangaroo Island Kangaroos.
The adorable foursome - Julie (6), Tabby (6), Kirby (4) and Nutmeg (3) - arrived from Victoria late August and have since been under close observation as they familiarised themselves with the zoo's outback-inspired Kangaroo Walkabout. They are now ready to get up close and personal with guests and stand in for selfies that will spring off the Instagram feed.
The four sisters (sharing the same father) join WILD LIFE Sydney Zoo's existing kangaroo residents Dot and Dusk to form the Cutest Aussie Six Pack. According to Zookeepers, the new girls like to snuggle up with Dusk in the evenings, while Tabby enjoys meals with her new best friend Dot.
Families stopping by during the school holidays will be among the first to greet these extraordinary marsupials who love to socialise, enjoy attention and are always on the lookout for their next feed.
Beyond meeting the mob, families will discover a pouch deep of fun facts about the Kangaroo Island Kangaroos including the reasons behind their darker and shorter fur, their trusting nature and their slower hops.
Make sure you pre-book your ticket to guarantee entry.