Meet our adorable new Emu chicks!
Friday 23rd August 2019
Emu, Animals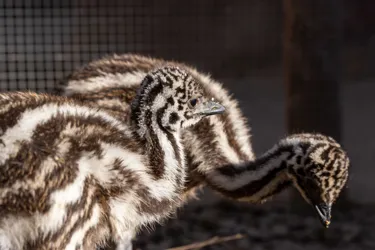 Two adorable four week old Emu chicks have settled into their new home right here at WILD LIFE Sydney Zoo in Kangaroo Walkabout.
The two chicks were born at Calmsley Hill City Farm and have come to spend their first few months with us, where they will live amongst other iconic Australian wildlife including Kangaroos - Dot, Dusk and Dawn, Davey the Quokka and a wide variety of birds including parrots and finches.
Keeper Shania Kelly said, "Whilst this cheeky pair are only four weeks old and weigh only 1.5kg they really love their food, regularly feeding on a mixture of leafy green vegetables and fruit and have already grown a lot in size.
"Guests have loved meeting the two baby Emus, commenting in particular on their amazing coats. When the Kangaroos came over to meet their new neighbours, we even attempted to recreate the Coat of Arms image!"
Emus are diurnal meaning they sleep at night and rest, eat and preen during the day so will be sure to enjoy seeing the pair basking in the sun or enjoying feed time.
When the Emus reach three to four months of age, they will move back to Calmsley Hill City Farm in Abbotsbury, NSW.
Whilst the sex of the emu chicks is still unknown, keepers created a box and asked guests to suggest names for the adorable duo! The names will be selected by the emus and revealed next week!