Luxury Family Holidays: Places to Go with Kids in Sydney
Friday 20th December 2019
School Holidays, Family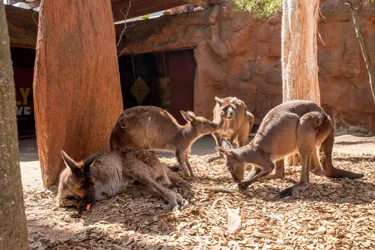 Even with kids, you can still travel with style and substance! Looking for extra-special places to go with kids in Sydney? Enjoy the beautiful luxury of free time, tailored tours and private treats with these luxury family holidays ideas.
Behind The Sea-nes
Hop aboard SEA LIFE Sydney Aquarium's Glass Bottom Boat Tour to experience the Great Barrier Reef like never before. That's right, a piece of the iconic Queensland natural wonder can be experienced in the heart of Sydney. SEA LIFE Sydney Aquarium's latest Day And Night on the Reef exhibit uses state-of-the-art technology, with a 1.7 million litre display of over 500 mesmerising sea creatures. The Glass Bottom Boat Tour gives you a rare glimpse as you're skippered above the water, with colourful marine life swimming right below your boat. Along the way, you'll learn about coral reefs and conservation with expert guides.
A Tailored Wildlife Tour
Next door to SEA LIFE Sydney Aquarium in Darling Harbour, meet Australia's iconic animals on an intimate 90-minute Australian Wildlife Tour at WILD LIFE Sydney Zoo. Two passionate keepers take you through to restricted zoo areas where you can find plenty of close-up photo opportunities with Aussie animal favourites.
Tours run with a maximum of 10 people, but you can contact the WILD LIFE Sydney Zoo team who'd love to help you with any specific requests. An immersive private tour just for you and your family? Sure! Pre-booking is essential and must be made at least 48 hours in advance.
This unmissable tour is suitable for children aged 10+ but if you've got tinier tots, consider relishing a family Breakfast With Koalas. How often do you get to enjoy a hot buffet with an incredible backdrop of gumtree-hugging koalas? And the extra-awesome part? Escaping the crowds with zoo entrance before the venue is even open to the public.
Private Outback Dining
Picture this: a Sydney sun setting and a scrumptious dinner for two at WILD LIFE Sydney Zoo. Candles, wine and total exclusivity. Your special guests: kangaroos! This Australian outback experience is a truly unforgettable treat for parents. Your booking also includes a guided tour – talk about luxury!
Travel Mode: Water Taxi
Get off the well-voyaged route. Travel with ease, comfort and style across the sparkling Sydney Harbour by a private water taxi. There are many well-renowned companies, such as Water Taxis Combined and Aussie Water Taxis. Wharf to wharf, whether your family consists of two people or ten, you can take all the time you need to enjoy Sydney's stunning surroundings. This is luxury, quality time with your wonderful crew.
Splendid Sleepovers
Location, location! Indulging at a Darling Harbour hotel means you're a stone's throw from some of the best places to go in Sydney with kids. SEA LIFE Sydney Aquarium, WILD LIFE Sydney Zoo, water taxi pick-up spots, sublime waterside eats and so much more. The sweetest cherry on top of this luxury family holiday? A free Darling Harbour fireworks display from your hotel window every Saturday at 9pm.