WILD Kids Birthday Parties at WILD LIFE Sydney Zoo
Tuesday 4th September 2018
Birthday, Parties, Children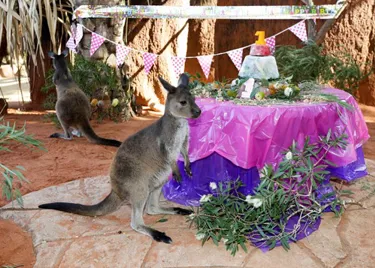 What better place to host your kids birthday party than at WILD LIFE Sydney Zoo. What's so special about WILD LIFE Sydney Zoo you ask? Well, here's our top reasons why we think it is a fabulous destination for kids birthday parties.
1. We'll Take Care of Everything
First of all, what could be better than throwing a party that doesn't involve you lifting a single finger? Our party package has been designed to take all of the hard work away from you and be as easy for you as, well, a piece of cake. The package includes admission to WILD LIFE Sydney Zoo, a personal host and highlights tour, reserved party area for up to 20 children, the opportunity to get up close to some animals, fun party games, food, and no party is complete without lolly bags and birthday cake. Plus, the birthday boy or girl will even receive a gift from us!  
2. Meet an Animal or Two
One of the highlights of our birthday party package is the opportunity to get up close to some unique Australian animals and wildlife. Kids will love touching a scaly snake or holding a stick insect, they might even get the chance to get up close to our resident kangaroos*.
*Animals are subject to change
3. It's a Unique Kids Party Venue
What an amazing and unique birthday party venue! Your kids will feel like they're on an adventure as they walk through the different habitats and come face to face with iconic Australian animals. They'll meet koalas in Gum Tree Valley, Ringo the wombat in Wallaby Cliffs, walk amongst kangaroos in Kangaroo Walkabout, and get up close with Rocky, our huge saltwater crocodile in Kakadu Gorge. It's not just the animals that capture your eye (and your hearts) either, the native flora in each of our carefully created habitats transports you to different habitats around Australia, and is totally Insta-worthy.
4. Not Only Fun, But Educational Too
While your kids are off having a ridiculously fun time, they won't even realise just how much they are learning at the same time. They will learn a few facts about some of Australia's most iconic animals, including the Aussie Big 5 from the party host throughout the highlights tour of WILD LIFE Sydney Zoo.
Book your child's next birthday party today!