Keeper Kylie - How do our echidnas get fed?
Thursday 4th September 2014
Echidna, Animals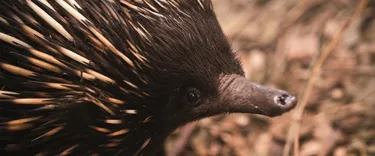 When visiting the zoo it's always interesting to see the animals getting fed. Here is a sneaky keeper preview of the action that you might see when visiting us at WILD LIFE Sydney Zoo at feed times…
Echidnas:
Out in the wild echidnas use their amazing sense of smell, strong legs and tough nails to find and break open ant and termite mounds. Once the walls have been breached the echidnas probe in the holes and suck up all the insects and larvae with their beaks and tongues.
As you can imagine we do not come into contact with these types of insects regularly enough to support our echidnas growing demands. Most zoos use a supplemented diet that resembles something like a meat smoothie. Yes that's right, we make up a special mix that includes minced meat, bran, eggs, oil, glucose, calcium carbonate and added vitamins and minerals. This is blended with water and presented to the echidnas in a variety of ways:
In a bowl: this is a way to monitor the animals' intake. As long as they don't knock it over we can see exactly how much our echidnas are eating.
In a tube with holes: This makes it a little more interesting. The echidnas roll the tubes around as they lap up the mixture with their extra long tongues. Did you know an echidna's tongue can get to 16cm in length!?
In a ball with holes: Another interesting way to feed our spikey friends is in ball form. The ball has extra mobility and it is great to watch our echidnas following it around.
In a man-made termite mound: For the more natural effect we have a sturdy cement termite mound replica. This mound has holes for tubes to be placed inside with the food.
On a spoon: Surprise! One of our echidnas is fed by you; our guestsJ! Diesel our female echidna is quite friendly (and well behaved). Our keepers bring her out at 2pm every day in the Kangaroo Walk-About exhibit. Guests are given a large spoon to feed Diesel and have the opportunity to take a photo and have a touch.
This is just another reason why you should come down and visit our awesome zoo-in-a-city at WILD LIFE Sydney Zoo in Darling Harbour. I hope we see you soon!