Using your dine and discover voucher at WILD LIFE Sydney Zoo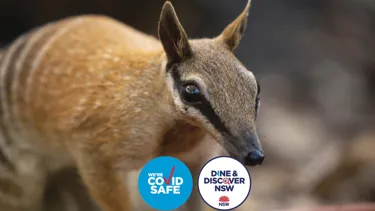 Good news! We now accepts Dine and Discover Vouchers!
The NSW Government has launched the Dine & Discover NSW scheme to encourage the community to support dining, arts and tourism businesses and stimulate spending in the economy. Every NSW resident aged 18 and over is now eligible for four $25 vouchers to use at COVID Safe registered businesses until 30 June 2021.
Booking with your vouchers can be a bit of a tricky processes if you haven't done it before, so we have created a step by step guide to help you out!
Step 1: Redeem your Voucher
First up, you'll need to register for your vouchers via  https://www.service.nsw.gov.au/transaction/apply-dine-discover-nsw-vouchers
Once registered, your vouchers will appear on your Service NSW app in the voucher section.
Step 2: Book using your Voucher
Once you have received your dine and discover voucher, you are now able to book your tickets using your unique voucher code. Head to this link here to book your tickets.
Select the ticket you would like. You can choose from our NSW attractions such as WILD LIFE Sydney Zoo, SEA LIFE Sydney Aquarium, Sydney Tower Eye, Madame Tussauds Sydney or Illawarra Fly Treetop Walk. You can even combine attractions and save even more!
When checking out, be sure to click the box that says 'Have a Dine & Discover NSW voucher?' and then enter your unique Dine & Discover voucher code.
Step 3: Visit the Zoo!
You have now booked with your Dine and Discover voucher and it is time to head to the zoo! Be sure to have your tickets ready on your phone, or printed out ready to be scanned.
You will have noticed when booking you selected a time slot – be sure to arrive around 5 mins before your time slot so you can head on into the zoo on time!
See you soon!
Book with Dine & Discover Voucher now