Help re-home Sugar Gliders in your backyard this nesting season
Wednesday 10th November 2021
Sugar Gliders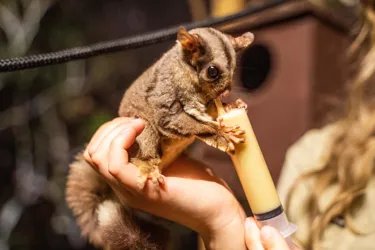 Known for their adorable big eyes and love of natural sugar, Sugar Gliders are a charming, native Australian marsupial that play an important role in the ecosystem, helping to control the insect population and pollinate native Australian plants.
These palm-sized, nocturnal marsupials can be found in tall eucalypt forests and woodlands along eastern and northern NSW. Sadly, Sugar Gliders have disappeared from much of suburban Australia due to the species losing their homes to habitat clearing and fragmentation.
This summer, WILD LIFE Sydney Zoo is helping guests learn more about the threats facing Aussie animals, in particular, Sugar Gliders with the help of Popcorn and Kandii -two adorable gliders at the Zoo.
"We are excited for Popcorn and Kandy to help us educate guests about not only the threats Sugar Gliders face in the wild but also to offer tangible solutions, such as how nest boxes in backyards can help to combat habitat clearing. Sugar gliders joeys breed can stay in their nest through to December, so there is still time for Aussies to help provide homes for wild Gliders by building or setting up a nesting box in their backyard this nesting season," said Sofia Machado, WILD LIFE Sydney Zoo keeper.
Nesting boxes imitate the tree hollows that Sugar Gliders seek out and build their homes in. Nesting boxes can be purchased online or at most hardware stores and WILD LIFE Sydney Zoo Keeper, Sofia Machado, has put together her top tips to help you place a nest box in your backyard:
Height - Be sure to place your nesting box higher than head height, but not so high that it sways in the wind.
Small Entry - A small entry hole less than 10cm in diameter is important for keeping out cold drafts and larger animals.
Size - As Sugar Gliders are a social species that nest with large families, ensure your nesting box is big enough for more than one Sugar Glider.
Cats - If you're a cat owner, ensure your cat stays inside and away from the nesting box, as cats are a major threat to Sugar Gliders.
Trees - It's important to keep Sugar Gliders off the ground and away from predators, so make sure there are enough trees around the nesting box to allow the gliders to move around comfortably without leaving the canopy.
For anyone looking for their next backyard project, there is also the option of building a nesting box, which is a fun and helpful way to give back to native wildlife. Local Land Services Greater Sydney has put together a free and helpful nest box building guide that can be downloaded here.
You can learn more about Sugar Gliders by visiting WILD LIFE Sydney Zoo and asking our Keepers to point out Popcorn and Kandii. If you're lucky, they could be participating in free guest encounters on the day, which will provide you with an interactive and educational Sugar Glider experience.