FREE EXCLUSIVE WILD LIFE SYDNEY ZOO TOUR
Friday 8th September 2023
Promotion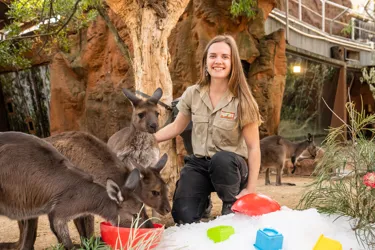 WILD LIFE Sydney Zoo is giving you the opportunity to learn about the Safe Cat, Safe Wildlife initiative run by Zoo and Aquarium Association (ZAA). In this tour, we will show you how we care for our animals and provide you with the opportunity to learn about how to help you transition your cat to a safer and happier life at home. Enrichment is something that our keepers practice daily with our animals, learn and see first hand how our keepers enrich our animals lives so that you can do the same!
The exclusive Safe Cat, Safe Wildlife talk and tour is on at 10am on the 16th and 17th of September at WILD LIFE Sydney Zoo in Darling Harbour. Spaces are limited, so don't miss out!
BOOK NOW!
16th of September at 10 am
17th of September at 10 am
Free 60 minute tour focusing on animal welfare and enrichment

Free entry into WILD LIFE Sydney Zoo
Children aged 2 and under visit free
Online offer only
This ticket is not valid with any other promotion, discount or offer unless explicitly specified
Children under 16 years of age must be accompanied by an adult
ABOUT THE SAFE CAT, SAFE WILDLIFE INITIATIVE
The Safe Cat, Safe Wildlife initiative aims to build a community of cat owners who have the tools to provide their cat with the longest and happiest lives possible by keeping them safe and enriched at home. When cats aren't roaming, you can be confident that your cat is safe and that the local wildlife around you is free to flourish.