'Croc-ing' around the Christmas Tree
Wednesday 21st December 2022
Charli Beale
Freshwater Crocodile, Arrival, Summer, School Holidays, Christmas, New, Wild Life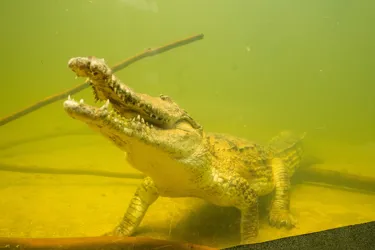 'Croc'-ing around the Christmas Tree' as three freshwater crocodiles arrive at WILD LIFE Sydney Zoo
WILD LIFE Sydney Zoo in Darling Harbour is celebrating the arrival of one male and two female freshwater crocodiles from Cairns, delivered by Santa himself, just in time for Christmas.
Completing the line-up of all Aussie animal icons, these jaw-some creatures, measure more than six meters of crocodile combined. From Thursday 22 December, guests can marvel at the trio in their new domain, Crocodile Billabong, with daily keeper talks commencing from Monday 26 December.
"Working with crocodiles is not your average job! I have so much respect for apex predators, they are so good at what they do. So we are particularly pleased that they prefer to eat fish," joked Lily Williams, Keeper at WILD LIFE Sydney Zoo.
"It's the first time we've had adult freshwater crocodiles at WILD LIFE Sydney Zoo, and we're very excited to have more than one, so we can explore their group dynamics. We're looking forward to getting to know their different personalities and taking on the challenge of developing their training regime accordingly.
"Freshwater crocodiles are fascinating animals. Unlike other species of crocodilians, who sloth around due to their humongous weight, 'freshies' are more agile, using a 'high walk' gait, body held high, belly and tail off the ground moving at speed, but are not considered to be dangerous to humans."
The three new residents, names currently under consideration, today had their first weigh-in. The male, 2.8 metres in length, came in at 93.2 kgs. The females, 2 metres each in length, came in at 38.8 kgs and 24 kgs respectively.
They will reside in an immersive domain has outside and inside viewing decks and lookouts offering a birds-eye view of the new arrivals sunbathing and gliding through the water.
From below the waterline, guests will come eye-to-eye with the ancient creatures and can almost step right into their lair, close enough to count their teeth, in the underwater viewing dome.
"We couldn't have wished for Santa to deliver three better gifts to WILD LIFE Sydney Zoo. The team will definitely be 'croc-ing' around the Christmas tree these school holidays!" concluded keeper Lily Williams.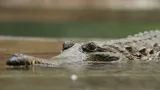 General Admission
Online From
$38.40
Per Person
Peak pricing applies to school holidays and weekends.

| | | | |
| --- | --- | --- | --- |
| Ticket Type | Walk Up Price/Peak Online | SAVE 20% - Pre-Book Online (Off Peak Weekdays) | High Demand Pricing |
| Adult | From $48 | From $38.40 | $50 |
| Child (3-15 yrs) | From $36 | From $28.20 | $38 |
| Student or Senior* | From $39 | From $31.20 | $41 |
| Child (0-2 yrs) | FREE | FREE | FREE |
| Merlin Annual Passholder | FREE | N/A | N/A |

Please note: Our ticket pricing is subject to available capacity and prices may fluctuate during periods of high demand.

Price includes Digi Photo Pass with 8 digital photos included (excludes Koala Photo experience)!
Children under 16 years of age must be accompanied by an adult (18+)
Get your ticket on your phone