Breakfast with the Koalas
Wednesday 6th March 2019
Koala, Experiences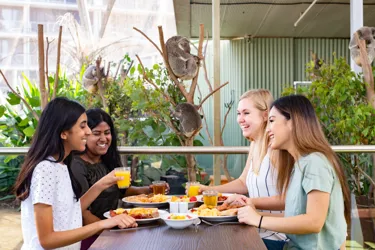 There are bacon and eggs, and then there are bacon and eggs in the company of Australia's most iconic creature: The Koala. Make the most of your morning and share it with furry friends between 7.15am and 9am, every day. Breakfast with the Koalas at WILD LIFE Sydney Zoo is a unique way to have a memorable meal while learning all about these marvellous marsupials.
All Inclusive
This early morning experience includes entry and a guided highlights tour of the Zoo so you can see the animals when they're most active. It also includes a hot buffet breakfast on Koala Rooftop, as well as an informative Koala keeper talk. So you don't forget this one-of-a-kind experience, a Koala Photo is included; have your picture taken close to a Koala, then share across your socials for some serious bragging rights. 
Koala Facts
So you can impress your fellow humans while you're at Breakfast with the Koalas, here are some facts you can bring out over your scrambled eggs:
Koalas aren't actually bears; they're marsupials
Koalas have two opposable thumbs on each paw; great for grabbing leaves and climbing trees
Koalas are mostly nocturnal and sleep 18-20 hours a day
Koalas communicate with loud bellows
Koala babies are known as Joeys
Koalas are approximately 2cms long and furless when they're born
Koalas rarely come to the ground to drink as they get all their moisture from eucalyptus leaves
Koala Friends
Our Koalas each have a personality of their own; with individual quirks and mannerisms. Alphi was born in 2017; a calm and social soul, he loves accompanying our keepers on their visits to the Children's Hospital. Bruce was born in 2012; sporting light coloured fur and a white dot on his left leg, he loves snoozing alone in his tree. Scarlet was born in 2018; she sticks close to her Mum and has an adorable symmetrical face with fluffy ears.
How You Can Help
It's difficult to calculate the exact Koala population in Australia, however, there is research that suggests that they are a species in decline. With their habitats under threat from expanding agricultural practices and urban development, we continue to support Koala research partners through the WILD LIFE Conservation Fund.
The WILD LIFE Conservation Fund is a not for profit organisation that seeks to support Australia's leading research and conservation organisations. Committed to protecting our incredible terrestrial animals and their habitats, we also provide educational programs and events to promote an understanding of how we can individually and collectively work towards a sustainable future.
Don't miss out on dishing up your tea and toast in the company of these gum-leaf-loving animals. Because Breakfast with the Koalas at WILD LIFE Sydney Zoo is such a unique experience, you'll need to pre-book at least 48 hours in advance. You can now give this gorgeous experience as a gift with our Breakfast with the Koalas Gift Voucher; let your loved ones make a magnificent memory starring these unique marsupials.