An Aussie Christmas at WILD LIFE Sydney Zoo
Friday 20th December 2019
Christmas, Events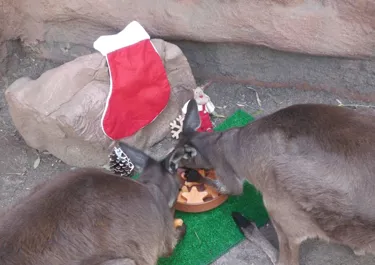 It was a typical Aussie Christmas scene at WILD LIFE Sydney Zoo , as our native animals were treated to early festivities! Dot, Dusk and Dawn, our Kangaroo Island Kangaroos, gathered around a table with the (not so little) baby emus, Mildred and Milo, for a special Christmas lunch of their favourite food – beetroot and silver beet! Even Ralphie the Galah swooped in to join in on the fun, perched on her keeper's arm while she enjoyed some corn.  
Like children eagerly awaiting Christmas morning, the animals couldn't help themselves, sneaking a peak at the presents hidden under the tree. Meanwhile, the mischievously cheeky Davey the Quokka was pulling out all the stops, with a last minute letter to Santa in a bid to win the big guy over.
But most relatable of all, were Sammy and Scarlet the koalas, perched up in their trees, enjoying a post-meal snooze to sleep off their eucalyptus food coma.  
Guests are encouraged to meet, greet and celebrate with the Aussie animals at WILD LIFE Sydney Zoo this Christmas, and enjoy special keeper talks, festive animal feeds and encounters in Darling Harbour!