Happy Mother's Day!
Friday 8th May 2020
Koala, Mother's Day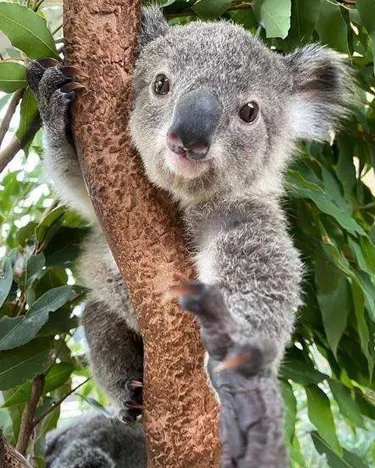 Iluka the koala and now first-time mum has welcomed an adorable joey who has decided to spend some time out of the pouch, just in time for Mother's Day!
Iluka, meaning 'by the sea', is the our most active and agile koala. Even with a joey in her pouch, she is still jumping between perches and…the apple doesn't fall far from the tree. At just 7.5 months old, this little joey (it's a girl!) is already very curious of the world, lately found venturing out of the pouch to start testing out some Eucalyptus leaves.
The keepers expect to see this little one become more independent over the next two months. With such an excited little joey, Iluka is said to be a very protective mum, often wrapping her arms over the top of her for extra protection (and a little cuddle).
Mum is looking forward to spending some koala-ty time with her new little bub this Sunday for her first Mother's Day.