Crazy Croc Facts You Probably Didn't Know!
Wednesday 23rd February 2022
Crocodile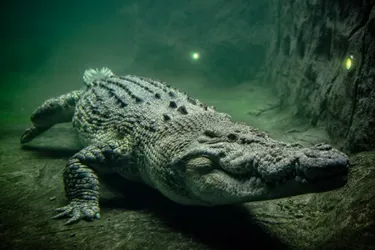 Bet you didn't know this about crocodiles...
There are over 23 species of crocodilians in the world! You can find them in rivers, lakes, billabongs and even the ocean.


The sex of an embryo is determined by the incubation temperature! Warmer temperatures tend to produce females and cooler temperatures tend to produce males. 


Saltwater crocodiles have the strongest bite in the world! Their bite is over 3.5 times as strong as a lion.


The lumps and bumps on a crocodile's back are called 'scutes'. The scutes manipulate the water directly around a crocodile, so that they leave no ripples on the surface as they swim underneath! So sneaky.


Crocodiles can go through over 3,000 teeth in their lifetime! As soon as one falls out a new one starts growing in its place.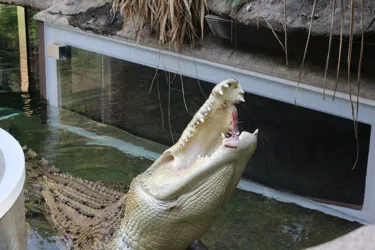 Speaking of crazy crocs...have you met Rocky? WILD LIFE Sydney Zoo resident since 2016, Rocky, is one our biggest Aussie outback creatures with a personality to match! 
Rocky will eat anything, so you better be careful! But his favourite food is barramundi. 


When Rocky arrived at WILD LIFE Sydney Zoo almost 5 years ago, he weighed 365 kg…we haven't been able to get close enough since but reckon he's put on a few kilos since then. 


Rocky is a bachelor for life! We have tried setting him up on dates but it just didn't work out and he's decided the single life is for him. 


Rocky likes it hot! One of his favourite activities is sunbaking and soaking up the warmth on his land. His land actually has two heating mats underneath that are heated up to 30°C.


Rocky loves a massage just as much as we do! He enjoys lying under the waterfall and letting the water massage his scales.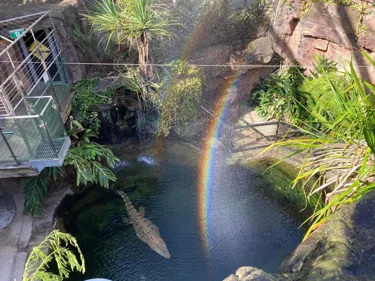 Want to learn more about Rocky's Teeth & Tail? 
Click here
Book now!
General Admission
Online From
$38.40
Per Person
Peak pricing applies to school holidays and weekends.

| | | | |
| --- | --- | --- | --- |
| Ticket Type | Walk Up Price/Peak Online | SAVE 20% - Pre-Book Online (Off Peak Weekdays) | High Demand Pricing |
| Adult | From $48 | From $38.40 | $50 |
| Child (3-15 yrs) | From $36 | From $28.20 | $38 |
| Student or Senior* | From $39 | From $31.20 | $41 |
| Child (0-2 yrs) | FREE | FREE | FREE |
| Merlin Annual Passholder | FREE | N/A | N/A |

Please note: Our ticket pricing is subject to available capacity and prices may fluctuate during periods of high demand.

Price includes Digi Photo Pass with 8 digital photos included (excludes Koala Photo experience)!
Children under 16 years of age must be accompanied by an adult (18+)
Get your ticket on your phone